Dangerous Products Lawyer
Product liability laws vary from state to state.
Generally, there are consumer friendly common law theories of product liability that have developed over hundreds of years and new state statutes which have re-written the law to favor businesses and insurance companies when determining whether a product is unsafe.
Common law theories of product liability used to predominate throughout the United States and rightly favored the rights of the individual.
Now, most states have re-written the common law and replaced it with what is known as "statutory product liability," which places business and insurance company interests ahead of individual rights.
For those reasons, it is more important than ever to consult with an attorney with expertise in defective product laws if you think a defective product caused your injuries.
There are many different theories of defective products that your state may recognize.
They are listed below but do not represent the laws of any one state.
If you have been injured by what you believe to be a defective product and want to know which laws your state recognizes, call one of the dangerous products lawyers at DLG for Me.
Types of Product Liability
Product liability cases aren't one size fits all.
There are multiple ways a product manufacturer can be held liable for putting a dangerous product on the market that kills or injures consumers, and you can allege multiple defects in the same lawsuit. 
Strict liability in product cases
If a state recognizes the common law principle of strict liability, a defendant is liable when the injured person proves that the product is defective, regardless of the defendant's intent.
It is irrelevant whether the manufacturer or supplier exercised great care; if there is a defect in the product that causes harm, he or she will be liable for it.
If you or a loved one were injured by a product you think might be defective, call today for a free, no-obligation consultation with an experienced product injury lawyer.
Design defect
Design defect claims allege the specifications of a product make it unreasonably dangerous to use.
Design defects are inherent to the design of the product and will exist in every individual item manufactured according to that design. 
A design defect might cause product failure that causes injury, such as faulty brakes leading to a car crash.
Design defects can also result in poor performance that doesn't meet consumer expectations. 
Manufacturing defect
Manufacturing defect lawsuits allege that, despite being properly designed, a product was flawed in the manufacturing process.
Manufacturing defects, unlike design defects, typically show up in only some of the products made according to a certain design and reflect an error in the manufacturing process. 
Failure to warn
Failure to warn claims allege that, even though a product was properly designed and manufactured, its label failed to provide adequate warnings or instructions for safely using the product and that the plaintiff was injured because the risk was not disclosed. 
Failure to warn claims are commonplace in product liability cases. In some instances, the manufacturer provides no warning, whereas in others, the product might include a warning that is inadequate.
Warning labels are especially important on inherently dangerous products.
For example, there are inherently dangerous products we use every day, such as gasoline. Because we need these products, companies are allowed to make them so long as they include an adequate warning label with instructions on proper use. 
Inherently dangerous products could only be made safe by excessively altering the design until its usefulness is eliminated.
In the gasoline example, without its dangerous propensity (combustion), it would be useless for operating our cars. To remedy the risks, inherently dangerous products must come with a manufacturer's warning and instructions. 
Breach of warranty
Breach of warranty claims often accompany design or manufacturing defect claims and allege that a product does not perform to the standard the seller promised.
The three kinds of product warranties are express warranty, implied warranty of merchantability, and implied warranty of fitness. 
Express warranties arise in a seller's oral representations or in the sales contract.
When a buyer relies on statements in the sales contract, a breach of warranty claim is usually simple to prove.
Reliance on oral statements as an express warranty is more difficult to prove because you must demonstrate that the seller actually made the statements.
The implied warranty of merchantability is an implied promise that the product is not defectively designed, manufactured, or labeled. 
The implied warranty of fitness is an inherent promise that if a seller knows a buyer is looking for a product suitable for a particular purpose and relies on the seller's expertise, then the product will be fit for the intended purpose. 
Product recalls
When a design or manufacturing defect becomes evident after a product is on the market, manufacturers will often issue a voluntary recall, where they remove the product from the market and offer consumers who purchased it a remedy.
In some instances, if the manufacturer does not issue a voluntary recall for a dangerous product, a government agency will mandate a recall. 
While voluntary recalls help the manufacturer avoid unchecked liability, they can also create unwanted publicity that alerts consumers to the potential to file a lawsuit.
Class action litigation often arises soon after a product recall announcement for economic injuries.
When a dangerous product causes personal injuries, a recall will sometimes lead to a mass tort litigation. 
Class actions and mass torts
Class actions and mass torts are each designed to handle a high volume of claims for a defective product.
Each type of litigation has complex procedural rules and requires extensive case management protocols.
In simple terms, class actions typically remedy economic injuries on behalf of all consumers who bought the product with the help of a class representative.
Mass torts, on the other hand, entail consolidating hundreds and sometimes thousands of individual cases in one court that can handle all the claims more efficiently than could multiple, geographically dispersed courts. 
Defective product cases are often tried or settled in class action lawsuits or mass torts, so finding an attorney with complex litigation experience is crucial.
At DLG For Me, our dangerous product lawyers have secured record-breaking class action and mass tort verdicts and settlements for our clients.
The statute of limitations in product liability cases
Each state has its own statute of limitations for product liability cases.
These vary drastically from state to state, from one year up to ten years after the cause of action accrues.
They also contain different provisions for when the time to file starts running.
Depending on the state, the deadline to file a lawsuit is determined by the date of initial purchase, the date the injury occurred, or the date the plaintiff discovered the injury. 
Most states recognize the discovery rule, which delays the statute of limitations from running until the plaintiff discovers the injury (instead of the date the injury actually occurred).
The discovery rule is most significant in cases where a product causes a latent injury that takes a while to fully manifest.
For example, a defective drug can take months or years to cause symptoms recognizable to the consumer.
In a state that recognizes the discovery rule, in this example, the statute of limitations would begin to run when the consumer discovered the drug had caused the symptoms. 
Statutes of repose can also affect your ability to file a lawsuit after a product injury.
A statute of repose bars claims for product defects after the defendant first sells the product, even if the consumer is not yet injured.
While statutes of repose are typically much longer than statutes of limitation, they typically benefit the defendant because they preclude liability for injuries that have yet to occur. 
With so many factors involved in calculating your deadline to file a claim, your best option is to speak with an experienced product liability attorney who can look at the facts and law and advise you on your filing deadline. 
The attorneys at DLG For Me have recovered millions of dollars for clients injured by defective products, and we don't take a fee unless we win for you.
If you were injured by a dangerous product, contact us today for a free consultation. 
Compensation available in product liability cases
Because courts cannot make an injury disappear, they use financial compensation to make the plaintiff "whole."
Compensation in product liability cases comes in the form of damages—the legal term for the sum of money awarded to a plaintiff in a personal injury lawsuit.
Compensatory damages pay for the plaintiff's losses.
Punitive damages punish the defendant and, hopefully, deter it and other companies from injuring other consumers in the future.
In a product liability case, the plaintiff will often have economic and noneconomic injuries. Examples of economic losses include:
Medical bills

Future medical expenses

Lost income

Future lost income

Property replacement or repair

Costs to accommodate for disability caused by the product defect
Noneconomic losses are more difficult to prove because they compensate for losses that are not as easy to quantify.
Common examples of noneconomic damages are pain and suffering and loss of consortium. 
Liable parties in product liability cases
Each party in the chain of distribution carries potential liability for a defective product.
The manufacturer, designer, and marketer are the most obvious defendants in product liability cases.
When a defective component causes the injury, both the manufacturer of the component and the manufacturer of the final product can be held liable.
Wholesalers, distributors, and retailers are also potential parties to a defective product lawsuit because they are each a part of the supply chain. 
You do not have to choose one defendant when you file a product liability claim.
Instead, your lawyer will name all potential defendants.
When you prove your case against each defendant, they are jointly and severally liable, meaning they are liable as a group and as individual companies for the entire damages award.
Joint and several liability often results in infighting among the defendants about who needs to pay because if one company is insolvent, the remaining defendants must take on its portion of the award.
If you were injured by a dangerous product, contact DLG For Me today so that we can help you determine if you have a valid claim and who is responsible.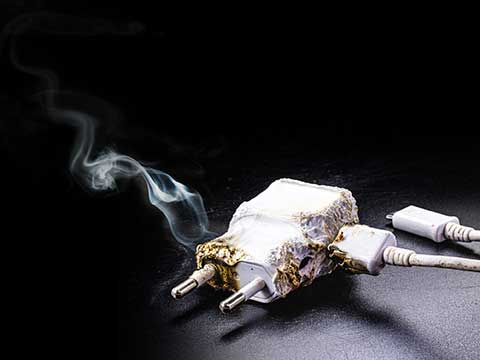 Free Dangerous Products Case Review
DLG For Me Awards and Recognition